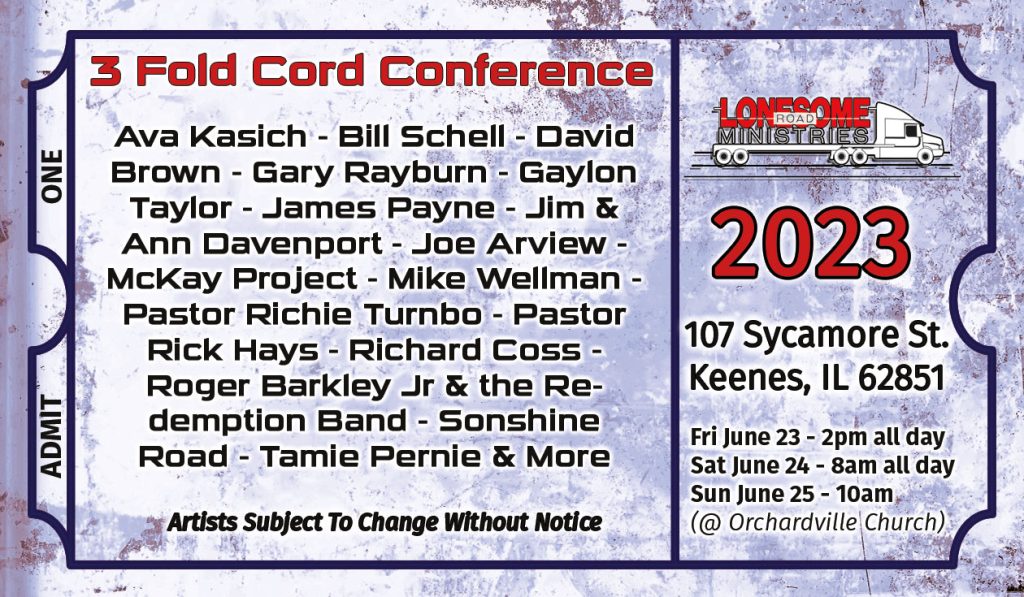 It's The 3-Fold Cord Conference 2023
June 23rd, 24th & 25th 2023
At The Lonesome Road Conference Center
107 Sycamore St Keenes, IL
Conference will begin
Friday, June 23 @ 2 pm with Great Music
Pastor Rick Hays will @ 4:30 pm
Fish Fry @ 5:30pm
Special Service with James Payne @ 6:30 pm
Saturday
The conference runs all day with music & testimonies starting with
Free Breakfast @ 8 am
The conference begins @ 9:30 am with Worship, Music, and Speaking from today's top artists
Free Lunch @ 2 pm with afternoon session after lunch
Full Concert Saturday night @ 7 PM
You will hear award-winning artists like
Ava Kasich
Bill Schell
David Brown
James Payne
Jim and Ann Davenport
Joe Arview
Roger Barkley Jr & the Redemption Band
Sonshine Road
Tamie Pernie
, and more with some of America's Top speakers such as
Gary Rayburn Gaylon Taylor James Payne
Pastor Richie Turnbo Pastor Rick Hays Richard Coss
throughout the weekend
Sunday the Conference moves to Orchardville Church @ 10 am with The Orchardville Praise team & Special Message from Lonesome Road Ministries Chaplain Gary Rayburn.
So make plans now for a great weekend of testimonies worship and fellowship.
For the complete list of details and places to stay go to www.lonesomeroadradio.org
That's The 3-Fold Cord Conference
June 23rd, 24th & 25th 2023
107 Sycamore St Keenes, IL
We'll see you there!!